Land Advisors Organization's Phoenix Office Closes the Anglin Dairy Located in Maricopa, AZ to Forestar Group Inc. for $15.5MM
Phoenix, Arizona (December 16, 2020) – Land Advisors Organization's Metropolitan Phoenix office is pleased to announce the sale of ±493 acres off Highway 238 and 1.5 miles west of SR 347 in Maricopa, Pinal County, Arizona. The property was acquired by Forestar Group Inc. for $15,511,470.
This significant transaction represents the first large raw land acquisition by a developer in Maricopa since before the Great Recession of 2007. The property is situated adjacent to the Ak-Chin Southern Dunes Golf Course and less than a 1.5 miles to the west of downtown Maricopa, and is perfectly posed to support the growing demand for housing in Maricopa and Pinal County.
Bret Rinehart, Ben Heglie, Ryan Semro, who specialize in home builder developments and master-planned communities throughout Arizona, and Pinal County Specialist, Kirk P. McCarville for Land Advisors Organization's Metropolitan Phoenix office, represented the seller in the transaction. The firm continues to advise clients on this product type and is working on several similar projects in the area.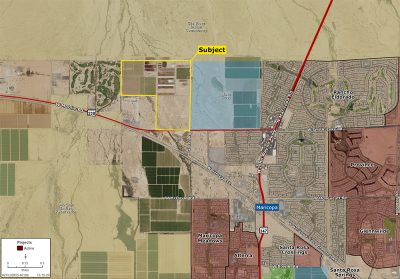 About Land Advisors Organization
Founded in 1987, Land Advisors Organization is the nation's largest land brokerage firm specializing in providing deep market insights to landowners and purchasers for the most comprehensive and effective evaluation of land in markets across the country. By integrating current local market information with cutting-edge technology and geographically specialized professionals, Land Advisors Organization advises clients in identifying and capitalizing on valuable land opportunities in all economic environments. Land Advisors Organization serves landowners and purchasers from offices in Phoenix, Tucson, Casa Grande and Prescott, Arizona; Irvine, San Francisco, Century City, Pasadena, Roseville and San Diego, California; Orlando, Tampa, and Jacksonville, Florida; Boise, Idaho; Las Vegas, Nevada; Albuquerque, New Mexico; Charlotte, North Carolina; Atlanta, Georgia; Austin, Houston and Dallas-Fort Worth, Texas; Salt Lake City, Utah and Seattle, Washington. Stay connected with us on Twitter, Facebook and LinkedIN.
# # #
Media Contact: Patty Johnson, Connections Marketing & Communications
PattyJohnson@Connections-marcom.com or 602.402.2965