Land Advisors Organization Closes Deal on 90.83 Acres for LGI Homes in Charlotte, NC
Transaction paves the way for new single-family homes in future LGI subdivision.
Charlotte, North Carolina (October 15, 2020) – Land Advisors Organization's Charlotte office is pleased to announce the sale of an assemblage of 90.83 acres to LGI Homes. The site, which LGI plans to develop into approximately 292 new one- and two-story single-family homes, is located on Parkton Road in Mecklenburg County, in Charlotte, North Carolina, located on Parkton Road.
The homes that LGI Homes plans to develop in the subdivision will be entry-level homes measuring between 1,300 and 2,800 square feet. Construction on the project is expected to begin in early 2021, and the first homes will be completing in 2022. The sale of the site to LGI Homes was exclusively handled by Forde Britt and Mariel Ellerbe, residential land advisors with Land Advisors Organization's Charlotte office.
"With high demand for single-family residential housing in Mecklenburg County, NC, we were thrilled to help LGI Homes locate and close on this property which will bring much-needed attainable housing in an area undergoing rapid change," said Forde Britt, advisor with Land Advisors Organization.
Homebuilders are seeing increasing demand in the Charlotte area due to in-migration throughout the state and individuals seeking new more spacious living situations combined with a low supply of inventory and low interest rates. Prior to COVID-19, most builders had two-three months of inventory. Recently the inventory has been only three-four weeks, causing builders to look to secondary markets that still meet the needs of their customers in terms of convenient transportation corridors and desirable amenities.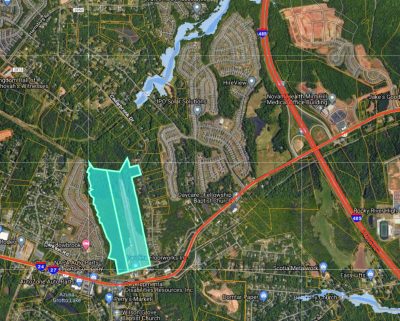 To read more please visit Charlotte Business Journal.
About Land Advisors Organization
Founded in 1987, Land Advisors Organization is the nation's largest land brokerage firm specializing in providing deep market insights to landowners and purchasers for the most comprehensive and effective evaluation of land in markets across the country. By integrating current local market information with cutting-edge technology and geographically specialized professionals, Land Advisors Organization advises clients in identifying and capitalizing on valuable land opportunities in all economic environments. Land Advisors Organization serves landowners and purchasers from offices in Phoenix, Tucson, Casa Grande and Prescott, Arizona; Irvine, San Francisco, Century City, Pasadena, Roseville and San Diego, California; Orlando, Tampa, and Jacksonville, Florida; Boise, Idaho; Las Vegas, Nevada; Albuquerque, New Mexico; Charlotte, North Carolina; Atlanta, Georgia; Austin, Houston and Dallas-Fort Worth, Texas; Salt Lake City, Utah and Seattle, Washington. Stay connected with us on Twitter, Facebook and LinkedIN.
# # #
Media Contact: Patty Johnson, Connections Marketing & Communications
PattyJohnson@Connections-marcom.com or 602.402.2965