Land Advisors Organization Phoenix Team Closes a 16.71 Acre Site Located in Phoenix, Arizona for $3.34M
Phoenix, Arizona (October 12, 2020) – Land Advisors Organization's Metropolitan Phoenix office is pleased to announce the sale of The Village at Camelback Ranch, a 16.71 acre site in northwest Phoenix planned for 194 rental units. The Buyer, The Empire Group of Companies purchased the site for $3,340,000 and is planning to build a horizontal apartment project on the property.  This will be the 4th project they have acquired with several more that are currently in the planning stages.
The Village at Camelback Ranch is situated just west of the northwest corner of 107th Avenue and Camelback Road. The Property is adjacent to the Camelback Ranch Glendale Ballpark and just minutes from Westgate, home of the Arizona Cardinals State Farm Stadium, and Algodon Center providing future residents easy access to employers throughout the valley and ample life-style amenities.
"This is a rapidly evolving submarket with a tremendous amount of new residential and commercial growth," said Bret Rinehart of Land Advisors Organization's Metropolitan Phoenix office. "The strategic infill location of the property in Phoenix near the Westgate area and the emerging Algadon Center will ensure high demand for this premier rental opportunity."
Bret Rinehart, Ryan Semro, and Ben Heglie, who specialize in home builder developments and master-planned communities throughout Arizona for Land Advisors Organization's Metropolitan Phoenix office, represented the seller in the transaction. The firm continues to advise clients on this product type and is working on several similar projects in the area.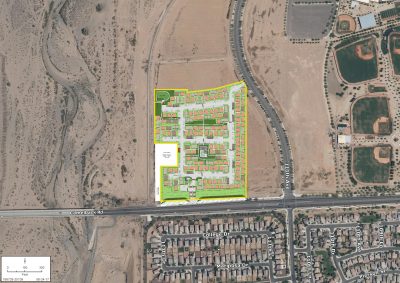 About Land Advisors Organization
Founded in 1987, Land Advisors Organization is the nation's largest land brokerage firm specializing in providing deep market insights to landowners and purchasers for the most comprehensive and effective evaluation of land in markets across the country. By integrating current local market information with cutting-edge technology and geographically specialized professionals, Land Advisors Organization advises clients in identifying and capitalizing on valuable land opportunities in all economic environments. Land Advisors Organization serves landowners and purchasers from offices in Phoenix, Tucson, Casa Grande and Prescott, Arizona; Irvine, San Francisco, Century City, Pasadena, Roseville and San Diego, California; Orlando, Tampa, and Jacksonville, Florida; Boise, Idaho; Las Vegas, Nevada; Albuquerque, New Mexico; Charlotte, North Carolina; Atlanta, Georgia; Austin, Houston and Dallas-Fort Worth, Texas; Salt Lake City, Utah and Seattle, Washington. Stay connected with us on Twitter, Facebook and LinkedIN.
# # #
Media Contact: Patty Johnson, Connections Marketing & Communications
PattyJohnson@Connections-marcom.com or 602.402.2965