Land Advisors Organization's Houston Team Closes 873 Acres in Montgomery County, Texas
Houston, Texas (September 17, 2020) – Land Advisors Organization's Houston team is pleased to announce the sale of 873 acres in Montgomery County, Texas.
The Seller was represented by Kirk Laguarta and Duane Heckmann in the Houston office of Land Advisors Organization. Managing Partner of Magnolia JV purchased the site and are currently planning single-family residential development on the property, including larger lots to meet the increasing demand for new housing in the Magnolia area.
"With its location on FM 149, its proximity to the SH 249 Highway, The City of Magnolia, and being located in Magnolia ISD, this property is in an ideal location for new residential development," said Duane Heckmann of Land Advisors Organization's Houston team. "The SH 249 extension will greatly increase mobility to the property and will considerably shorten drive times for large numbers of homebuyers moving away from urban areas to more suburban communities."
SH 249 is currently well under construction and it is anticipated to be completed in 2023.  The SH 249 extension is approximately 24 miles of new roadway from Farm-to-Market (FM) 1774 in Pinehurst, Montgomery County, Texas, to SH 105 near Navasota, Grimes County, Texas.
The property is about 25 minutes from The Woodlands Mall and about 15 minutes from the future Super Target and new Kroger at FM 1488 & FM 2978 and a new HEB is proposed to open in 2023 on FM 1488 across from Magnolia High School.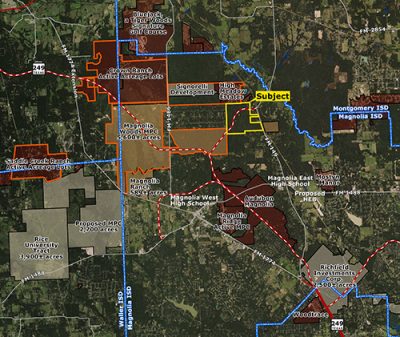 About Land Advisors Organization
Founded in 1987, Land Advisors Organization is the nation's largest land brokerage firm specializing in providing deep market insights to landowners and purchasers for the most comprehensive and effective evaluation of land in markets across the country. By integrating current local market information with cutting-edge technology and geographically specialized professionals, Land Advisors Organization advises clients in identifying and capitalizing on valuable land opportunities in all economic environments. Land Advisors Organization serves landowners and purchasers from offices in Phoenix, Tucson, Casa Grande and Prescott, Arizona; Irvine, San Francisco, Century City, Pasadena, Roseville and San Diego, California; Orlando, Tampa, and Jacksonville, Florida; Boise, Idaho; Las Vegas, Nevada; Albuquerque, New Mexico; Charlotte, North Carolina; Atlanta, Georgia; Austin, Houston and Dallas-Fort Worth, Texas; Salt Lake City, Utah and Seattle, Washington. Stay connected with us on Twitter, Facebook and LinkedIN.
# # #
Media Contact: Patty Johnson, Connections Marketing & Communications
PattyJohnson@Connections-marcom.com or 602.402.2965