Master-Planned Community to Bring 292 New Single-Family Homes to the Beach in Oxnard, California
Land Advisors Organization represented the seller in this transaction that will add housing to supply-constrained market along the Southern California coastline.
Oxnard, California (March 8, 2023) – Land Advisors organization is proud to announce the closing of Beachside on the Mandalay Coast (Beachside) in Oxnard, CA. Beachside is a community 30 years in the making with an approved plan consisting of 292 single-family detached residential units, parks, trails, and open space directly adjacent to Mandalay Beach. The buyer, a joint venture between Sixth Street and Harridge Development Group, is expected to break ground on this new community within the next few months. The seller is global real estate investment firm GTIS Partners.
Overlooking Mandalay State Beach and the Pacific Ocean Beachside is one of the last new-home opportunities of its size along the Southern California coast and certainly within Oxnard and the greater Ventura County area.
Beachside consists of 292 single-family detached residential units with 3 distinct product types each offering views of the Pacific Ocean, Channel Islands, saltwater canals, and the surrounding mountains. The site is rough graded and 'shovel-ready' allowing the buyer to pull grading and improvement plan permits shortly after close of escrow.
According to Land Advisors Organization – California Division co-founder, Terry Ruckle, "GTIS Partners and Harridge Development Group successfully closed this transaction, overcoming complexities and uncertainty with the regulatory conditions and challenging development issues. Beachside will break ground this year and is destined to be Oxnard's premier beach community."
The recorded seller of Beachwalk, GTIS Partners, is based in New York and manages in excess of $4.3 billion in gross assets with a focus on residential and industrial/logistics investments within the U.S. As part of its land development strategy, GTIS Partners acquires larger land parcels and sells to builders who have adopted a 'land-light' operating model, completes master planning and land development, sells lots to homebuilders and constructs and sells homes to final buyers.
During its ownership of Beachwalk, GTIS Partners collaborated with multiple Federal, State and local regulatory agencies to remediate the sites soil and groundwater issues, while also providing a perpetual protected habitat for an endangered plant species.  GTIS has an extensive track record of investing in residential real estate, including land development and home building projects with a focus on the U.S. Sunbelt totaling approximately $7 billion in project cost across 100+ projects.
Harridge Development Group, is a real estate development company focused on developing land for residential and commercial development with extensive expertise in developing urban districts with single family, PUD, condominium, multifamily and mixed-use projects.
Sixth Street is a global investment firm with approximately $65 billion in assets under management and committed capital. Sixth Street uses its long-term flexible capital, data-enabled capabilities, and One Team culture to develop themes and offer solutions to companies across all stages of growth. Sixth Street Real Estate invests in properties and provides financing solutions across the full range of real estate asset classes, including office, residential, hospitality, industrial, and retail as well as niche assets. Founded in 2009, Sixth Street has more than 400 team members including over 180 investment professionals operating around the world. For more information, visit www.sixthstreet.com, or follow Sixth Street on LinkedIn.
GTIS Partners is a leading real estate investment firm in the Americas, headquartered in New York with offices in São Paulo, San Francisco, Los Angeles, Atlanta, Charlotte, Paris and Munich. The firm was started in 2005 and is managed by President and founder Tom Shapiro and seven other partners The firm manages $4.3 billion in gross assets and is active across a wide range of real estate sectors including single family and multifamily housing, office, industrial/logistics and hospitality as well as opportunity zone investments. The firm invests at various points in the capital structure including credit, common equity and structured equity. In the US, GTIS has invested in over 170 assets across 40 unique markets including growth areas such as Phoenix, Dallas, Houston, Denver, Atlanta, Tampa and Charlotte. In Brazil, GTIS is among the largest real estate private equity firms with holdings including office, residential, logistics, and hospitality investments. Marquee assets developed by GTIS Partners in São Paulo include the Infinity office building and Palácio Tangará, a five-star resort style hotel. For more information, please visit www.gtispartners.com.
Terry Ruckle, Mac O'Donnell, Randy Coe, Chris Shiota, and Kwame Do with Land Advisors Organization represent the seller in this transaction.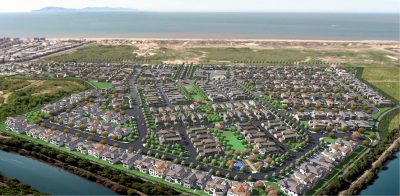 About Land Advisors Organization
Founded in 1987, Land Advisors Organization is the nation's largest land brokerage firm specializing in providing deep market insights to landowners and purchasers for the most comprehensive and effective evaluation of land in markets across the country. By integrating current local market information with cutting-edge technology and geographically specialized professionals, Land Advisors Organization advises clients in identifying and capitalizing on valuable land opportunities in all economic environments. Land Advisors Organization serves landowners and purchasers from offices in Phoenix, Tucson, Casa Grande, and Prescott, Arizona; Irvine, San Francisco, Century City, Pasadena, Roseville, and San Diego, California; Orlando, Jacksonville, and Tampa Bay, Florida; Atlanta, Georgia; Charlotte, North Carolina; Nashville, Tennessee; Boise, Idaho; Las Vegas, Nevada; Albuquerque, New Mexico; Austin, Houston and Dallas-Fort Worth, Texas; Salt Lake City, Utah; Kansas City, Kansas; and Seattle, Washington. Stay connected with us on Twitter, Facebook, and LinkedIn.
Media Contacts
Land Advisors Organization
Lindsey Boulé
lboule@landadvisors.com
Harridge Development Group
Glenn Gritzner
ggritzner@actumllc.com
Sixth Street
Patrick Clifford
pclifford@sixthstreet.com
GTIS Partners
Mary Beth Grover / Keely Gispan
ASC Advisors
(203) 992-1230
mbgrover@ascadvisors.com / kgispan@ascadvisors.com