Nancy Surak of Land Advisors Organization's Tampa Bay Office Closes on $6.5M Sale Big Top of Tampa Flea Market Site to LIV Development
The new development will bring 292 much-needed, Multifamily housing units to the area.
Tampa, Florida (January 7, 2021) – Land Advisors Organization's Tampa Bay office is pleased to announce the sale of the former Big Top of Tampa Flea Market site, an approximately 32-acre parcel of land located at 9250 East Fowler Avenue in Thonotosassa, Florida to Birmingham, AL based LIV Development. The property sold for $6,578,000 and will be developed into a new 292-unit multifamily community.
Nancy Surak, a senior land advisor and managing broker for Land Advisors Organization Tampa Bay, arranged the sale on behalf of the landowner, Big Top of Tampa Incorporated. Construction of the new community is expected to begin in early 2021 and should complete by the end of 2022. Leasing will begin mid-2022.
"This project will deliver much-needed new, high-quality housing. The site is located 3.5 miles from the University of South Florida, the James Haley Veterans Hospital, the Moffit Cancer Center, and the USF Research Park. It's also in close proximity to the Tampa Innovation district area and the new Amazon Fulfillment Center currently under construction in Temple Terrace, FL," said Nancy Surak. "Multifamily housing adds to the diversity of housing stock for current and new residents and we are excited about being involved in this project."
"Nancy's understanding of the land market and the guidance she provided our team through this transaction was superior and we wish LIV Development all the best as they move into the evolution of this property,' said Dianne Wontenay, CFO, Big Top of Tampa.
Nancy Surak specializes in land advising and land sales throughout Tampa Bay for Land Advisors Organization. She recently celebrated a career milestone of closing on more than $185,000,000 in land sale transactions and being awarded the Overall Commercial Real Estate Deal of the Year.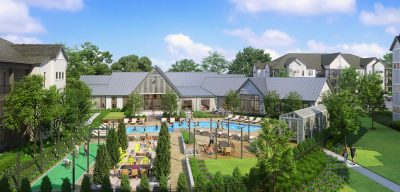 About LIV Development
Based in Birmingham, Alabama, and working throughout the Sunbelt region, LIV Development specializes in developing Class A multifamily apartments. According to the company's website, LIV Development has completed nearly $2 billion in projects.
About Land Advisors Organization
Founded in 1987, Land Advisors Organization is the nation's largest land brokerage firm specializing in providing deep market insights to landowners and purchasers for the most comprehensive and effective evaluation of land in markets across the country. By integrating current local market information with cutting-edge technology and geographically specialized professionals, Land Advisors Organization advises clients in identifying and capitalizing on valuable land opportunities in all economic environments. Land Advisors Organization serves landowners and purchasers from offices in Phoenix, Tucson, Casa Grande and Prescott, Arizona; Irvine, San Francisco, Century City, Pasadena, Roseville and San Diego, California; Orlando, Tampa, and Jacksonville, Florida; Boise, Idaho; Las Vegas, Nevada; Albuquerque, New Mexico; Charlotte, North Carolina; Atlanta, Georgia; Austin, Houston and Dallas-Fort Worth, Texas; Salt Lake City, Utah and Seattle, Washington. Stay connected with us on Twitter, Facebook and LinkedIN.
# # #
Media Contact: Patty Johnson, Connections Marketing & Communications
PattyJohnson@Connections-marcom.com or 602.402.2965