Homes by Towne Purchases 24 Acres within the Sierra Vista Specific Plan Area, Planning for 209 New Multi-Family Residential Units
Land Advisors Organization represented the buyer and seller in the transaction that will bring much-needed new residential units to rapidly expanding Roseville, California.
ROSEVILLE, California  – Land Advisors Organization's Northern California office recently facilitated the sale of Sierra Vista 24, a 24-acre parcel consisting of 209 multi-family attached residential units and 7 acres of commercial to Towne Development of Sacramento Inc.. The site, which is located at the northwest intersection of Baseline Road and Santucci Blvd, is adjacent to the Westbrook project in the new and growing area of Roseville, Ca.
Construction of the new rental home community will begin approximately Fall of 2023 and units are expected to be available early 2024. Jim Radler, RJ Radler, and Ryan Long with the Northern California Land Team at Land Advisors Organization represented both the buyer, Towne Development of Sacramento Inc., and the seller, KV Sierra Vista LLC, in this transaction. "Chris Vrame of KV Sierra Vista LLC was outstanding to work alongside of the buyer, Towne Development of Sacramento Inc. in achieving the necessary entitlement approvals", said Jim Radler of Land Advisors Organization. "The build for rent marketplace continues to be extremely active and competitive for land deals.  The Towne Development of Sacramento Inc. product will have a unique plan design that should be well received by the west Roseville community."
The Sierra Vista Specific Plan includes 2,064 acres west of Fiddyment Road, north of Baseline Road. The Plan area was annexed into the City of Roseville from unincorporated Placer County. The Specific Plan includes 8,679 single and multi-family units, including approximately 259 acres of Commercial, 106 acres of Park, 304 acres of Open Space, 56 acres of Schools and 40 acres of Urban Reserve. At build-out, the Plan area is expected to accommodate approximately 20,045 residents and provide 9,000 jobs.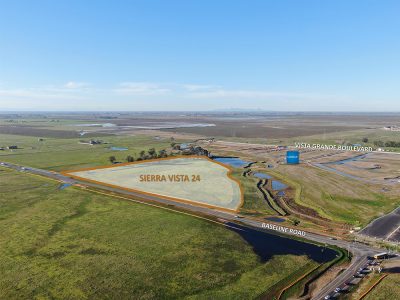 About Land Advisors Organization
Founded in 1987, Land Advisors Organization is the nation's largest land brokerage firm specializing in providing deep market insights to landowners and purchasers for the most comprehensive and effective evaluation of land in markets across the country. By integrating current local market information with cutting-edge technology and geographically specialized professionals, Land Advisors Organization advises clients in identifying and capitalizing on valuable land opportunities in all economic environments. Land Advisors Organization serves landowners and purchasers from offices in Phoenix, Tucson, Casa Grande and Prescott, Arizona; Irvine, San Francisco, Century City, Pasadena, Roseville and San Diego, California; Orlando, Jacksonville and Tampa Bay, Florida; Atlanta, Georgia; Charlotte, North Carolina; Nashville, Tennessee; Boise, Idaho; Las Vegas, Nevada; Albuquerque, New Mexico; Austin, Houston and Dallas-Fort Worth, Texas; Salt Lake City, Utah; Kansas City, Kansas; and Seattle, Washington. Stay connected with us on Twitter, Facebook and LinkedIn.
# # #
Media Contact: Patty Johnson, Connections Marketing & Communications
PattyJohnson@Connections-marcom.com or 602.402.2965