Land Advisors Organization Houston Team Represents Seller in Transaction of 37.23 Acres in Harris County, Texas to Harris County Flood Control District
Houston, TX (April 20, 2020) – Land Advisors Organization Houston team is pleased to announce the sale of 37.23 acres near Beltway 8 in South Houston, Texas.
The sale was arranged on behalf of the Seller by Land Advisors Organization's Houston Team, Kirk Laguarta and Duane Heckmann. The Seller had been trying to sell the property for years and Kirk and Duane determined the best use of the property was for detention given its location at the confluence of two drainage channels.
"The purchase of this tract by Harris County Flood Control District (HCFCD) for detention was viewed as a way to help prevent homes and businesses in the area from flooding," said Land Advisors Organization's Kirk Laguarta. "HCFCD purchased this property to dig a detention basin that will slow the runoff of high rain event occurrences."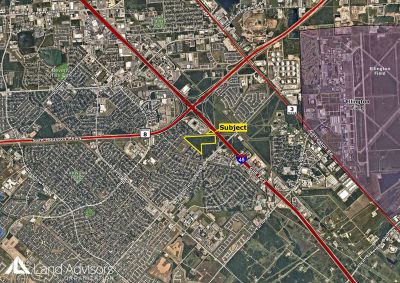 About Land Advisors Organization
Founded in 1987, Land Advisors Organization is the nation's largest land brokerage firm specializing in providing deep market insights to landowners and purchasers for the most comprehensive and effective evaluation of land in markets across the country. By integrating current local market information with cutting-edge technology and geographically specialized professionals, Land Advisors Organization advises clients in identifying and capitalizing on valuable land opportunities in all economic environments. Land Advisors Organization serves landowners and purchasers from offices in Phoenix, Tucson, Casa Grande and Flagstaff, Arizona; Irvine, San Francisco, Century City, Pasadena, Roseville and San Diego, California; Orlando and Tampa Bay, Florida; Boise, Idaho; Las Vegas, Nevada; Albuquerque, New Mexico; Charlotte, North Carolina; Austin, Houston and Dallas-Fort Worth, Texas; Salt Lake City, Utah and Seattle, Washington. Stay connected with us on Twitter, Facebook and LinkedIn.
# # #
Media Contact: Patty Johnson, Connections Marketing & Communications
PattyJohnson@Connections-marcom.com or 602.402.2965