Land Advisors Organization Scottsdale Team Arranges the Sale of a 245 Lot Site Located in Surprise, Arizona for $3.65M
Scottsdale, Arizona (April 27, 2020) – Land Advisors Organization Scottsdale is pleased to announce the sale of a 22.99 acre site planned for 245 units in Surprise, Arizona. The Property is located at Cotton Lane and Sweetwater Avenue and sold for $3.65M to NPC Trugold, LLC. The sale of this parcel is significant as it is one of the first multi-family acquisitions on the west side of the Loop 303 in the emerging Loop 303 corridor.
The sale was arranged on behalf of the Seller by Mike Schwab, Bret Rinehart, Ryan Semro and Ben Heglie of Land Advisors Organization Scottsdale who specialize in home builder developments and master planned communities throughout Arizona. Per Bret Rinehart at Land Advisors Organization, "The project will bring the hybrid rental product that has been successful across the valley to the Loop 303 corridor in Surprise. We expect the success of this project to match that of several existing communities located east of the Loop 303 in Surprise. This site is strategically located with easy freeway access, it is in close proximity to retail and major employers as well as regional amenities including the White Tank Mountain Regional Park." Land Advisors continues to advise clients on this product type and is working on several additional complementary projects in the area.
According to Hancock Communities: "TruGold consists of 245 luxury, one- and two-bedroom rentals. With Tuscan and Santa Barbara Flair, this community includes a gorgeous pool, spa, and covered ramada with linear fireplace and outdoor TV viewing. The community located in Surprise, welcomes you with a gorgeous entry Portico and large open green spaces with shaded picnic areas. The project breaks ground on May 5th and will complete in September 2022. Hancock Communities handled all the predevelopment, site plan, and zoning work on this project. That makes seven completed SFR communities for Hancock, seven under construction and 8-10 more in the design phase."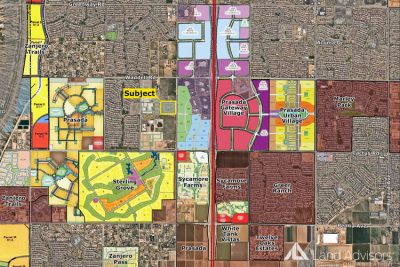 About Land Advisors Organization
Founded in 1987, Land Advisors Organization is the nation's largest land brokerage firm specializing in providing deep market insights to landowners and purchasers for the most comprehensive and effective evaluation of land in markets across the country. By integrating current local market information with cutting-edge technology and geographically specialized professionals, Land Advisors Organization advises clients in identifying and capitalizing on valuable land opportunities in all economic environments. Land Advisors Organization serves landowners and purchasers from offices in Phoenix,
Tucson, Casa Grande and Flagstaff, Arizona; Irvine, San Francisco, Century City, Pasadena, Roseville and San Diego, California; Orlando and Tampa Bay, Florida; Boise, Idaho; Las Vegas, Nevada; Albuquerque, New Mexico; Charlotte, North Carolina; Austin, Houston and Dallas-Fort Worth, Texas; Salt Lake City, Utah and Seattle, Washington. Stay connected with us on Twitter, Facebook and LinkedIN.=
# # #
Media Contact: Patty Johnson, Connections Marketing & Communications
PattyJohnson@Connections-marcom.com or 602.402.2965