Land Advisors Organization's Houston Team Closes Deal on 52.8 Acres
Land Advisors Organization's Houston team is pleased to announce the sale of 52.8 acres, located in Montgomery County, Texas to Montgomery County Drainage, District 6. The site will allow the new owner to provide better drainage solutions for the residents and businesses in the district.
The sale was arranged by Kirk Laguarta and Duane Heckmann of Land Advisors Organization's Houston office on behalf of the property owner. The property is located approximately 30 miles north of Houston at the end of Blair Road.
"Adequate drainage has been an increasing priority for municipalities throughout the Houston area and this critical site offers those living and doing business in District 6 with a much-needed solution, which can also support future growth in the area," said Kirk Laguarta of Land Advisors Organization's Houston team. "We were pleased to be able to provide a successful and quick close for the seller and help the growing community with an ideal drainage solution."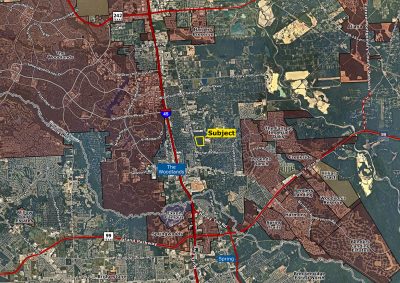 ###
About Land Advisors Organization
Founded in 1987, Land Advisors Organization is the nation's largest land brokerage firm specializing in providing deep market insights to landowners and purchasers for the most comprehensive and effective evaluation of land in markets across the country. By integrating current local market information with cutting-edge technology and geographically specialized professionals, Land Advisors Organization advises clients in identifying and capitalizing on valuable land opportunities in all economic environments. Land Advisors Organization serves landowners and purchasers from offices in Phoenix, Tucson, Casa Grande and Prescott, Arizona; Irvine, San Francisco, Century City, Pasadena, Roseville and San Diego, California; Orlando and Tampa Bay, Florida; Boise, Idaho; Las Vegas, Nevada; Albuquerque, New Mexico; Charlotte, North Carolina; Austin, Houston and Dallas-Fort Worth, Texas; Salt Lake City, Utah and Seattle, Washington. Stay connected with us on Twitter, Facebook and LinkedIn.
# # #
Media Contact: Patty Johnson, Connections Marketing & Communications
PattyJohnson@Connections-marcom.com or 602.402.2965