New Innovative Townhome Community to Bring 150 New Three-Story Townhomes to Santa Clarita, CA
Land Advisors Organization represented the seller in this transaction that will add transit-oriented housing to Santa Clarita.
Santa Clarita, California (May 15, 2023) – Land Advisors Organization is pleased to announce the closing of the 150-unit townhome community aptly named Wayfare Station in Santa Clarita, CA.  Wayfare Station is a walkable, mixed-use,  transit-oriented development (TOD) that is within the new "live-work-shop" Vista Canyon master-planned community.  New residents will have the newly built Via Princessa MetroLink (Antelope Valley Line) Station on their doorsteps which will enable riders to easily get to Downtown LA in less than one hour and to various employment hubs throughout greater Southern California.
Wayfare Station, to be built by Woodside Homes, is approved with six floor plans ranging from two to four bedrooms which will allow a diverse group of buyers to find a home and each unit will have two side-by-side garage parking spaces. The Project is adjacent to pedestrian trails, a park, neighborhood serving retail, office space, and public transportation hubs. Community amenities include access to a pool and clubhouse, a park, as well as public and private open space areas within the community; recreation areas are all close to each other, helping to create a sense of small-town community among the people who live and work here.
Wayfare Townhomes are expected to start in the mid $600,000's.  It will be close to the I-5 and I-14 and has direct access to a major train station.  Wayfare will be the perfect fit for commuter families and work force housing.
Land Advisors Organization's Terry Ruckle, Mac O'Donnell, Chris Shiota, Randy Coe, and Kwame Do represented the seller, New Urban West, in this transaction.  Woodside Homes is the buyer of this innovative community.  According to Chris Shiota, "New Urban West did a great job designing and securing approvals of another highly desirable residential project by collaborating with all the key stakeholders including the City.  Woodside's experienced team and ability to develop the infrastructure made them the ideal buyer of the 150 townhomes."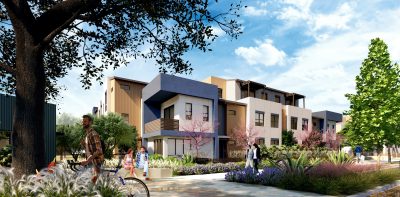 New Urban West, Inc. (NUWI) is a privately-held, Santa Monica-based developer with over six decades of experience with strong capitalization, passion for placemaking, dynamic stakeholder engagement, and a focus on solving complex land use challenges.  They provide valuable places to live, work, and play while successfully navigating complex regulatory, financial, and planning processes that support our neighboring businesses and workforce — while improving community connectivity that strives to better our environment.
Since 1977, the Woodside Homes name has been synonymous with integrity, excellence, design innovation and a great customer experience. That enduring reputation continues to attract generations of discerning homebuyers throughout Arizona, California, Nevada, and Utah.  For more than 40 years, Woodside Homes has designed, constructed, and sold more than 45,000 homes. That achievement attests to the success of Woodside's commitment to building homes that are designed to enhance…homes that are personalized to meet the needs and dreams of individual homebuyers throughout California.
About Land Advisors Organization
Founded in 1987, Land Advisors Organization is the nation's largest land brokerage firm specializing in providing deep market insights to landowners and purchasers for the most comprehensive and effective evaluation of land in markets across the country. By integrating current local market information with cutting-edge technology and geographically specialized professionals, Land Advisors Organization advises clients in identifying and capitalizing on valuable land opportunities in all economic environments. Land Advisors Organization serves landowners and purchasers from offices in Phoenix, Tucson, Casa Grande, and Prescott, Arizona; Irvine, San Francisco, Century City, Pasadena, Roseville, and San Diego, California; Orlando, Jacksonville, and Tampa Bay, Florida; Atlanta, Georgia; Charlotte, North Carolina; Nashville, Tennessee; Boise, Idaho; Las Vegas, Nevada; Albuquerque, New Mexico; Austin, Houston and Dallas-Fort Worth, Texas; Salt Lake City, Utah; Kansas City, Kansas; and Seattle, Washington. Stay connected with us on Twitter, Facebook, and LinkedIn.
Media Contacts
Land Advisors Organization
Lindsey Boule
lboule@landadvisors.com